2017 Fairbanks Solar Tour Details
Saturday, September 30, 2017
10 am kick off 
Cold Climate Housing Research Center (CCHRC) at 1000 Fairbanks St
Connect with old friends and make new ones while sharing light snacks.  Bruno Grunau with CCHRC will be giving tours of the facility and Eddie Davidson with Renewable Energy Systems will give a short presentation on financing solar for homeowners and businesses. From noon to 4 pm, people can visit individual homes and businesses to see new systems, talk with owners and learn why that with low prices, new technology and financing options to cover the upfront cost of installation, the time to invest in solar has never been hotter.
RES Financing Presentation (coming soon)
Residential
---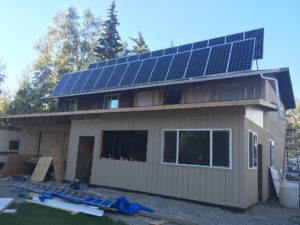 Patterson     
536 Ketchikan Ave.        8.2 Kw electric                   RES
Directions: From Trainer Gate Rd. right on Farewell, immediate left on F St. 1/2 mile down on right on Ketchikan.
Description: Twenty-six SolarWorld modules mounted on the roof, 10Kw Solaredge Inverter.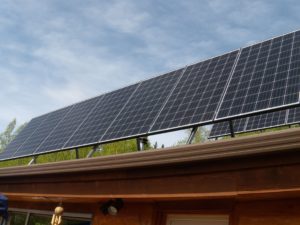 Hansen            
1067 Daisy Dr.               4.8 Kw electric                   RES
Directions: From Steese Hwy, right on Steele Creek, left on Gilmore Trail. 1.5m right on Maya, left on Derek, Left on Daisy. Log cabin up the hill, third house on the right.
Description: 18 panels mounted on roof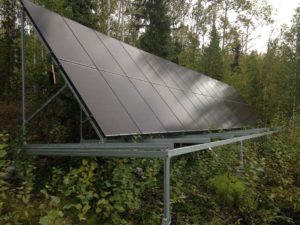 Janssen        
1100 Esro Rd.                8.1Kw electric                    RES
Directions: (Caution narrow drive) ~4 mile Chena Hot Springs Rd. on left-hand side. House ~1 mile on the right.
Description: A short hike from the house at the edge of the bluff is thirty panels on a ground mounted fixed racking system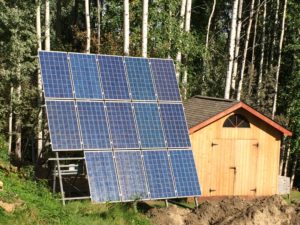 Partyka              
670 Garner Dr.               3.2 Kw electric                   ABS
Directions: From the George Parks in Ester take a right on Old Nenana Hwy,
Description: ground mounted array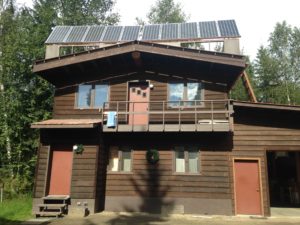 Ross        
2532 Roland Rd.            1.75 Kw electric                 Remote Power
Directions: 2 miles down Chena Pump Road.  Roland is on the right.
Description: Super insulated home, 10 roof-top panels with Fronius Inverter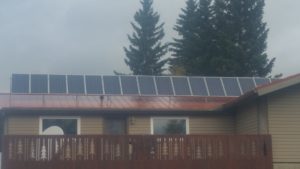 Wickwire           
2775 Hanson Rd.           5 Kw electric        ABS
Directions: Follow Aurora to the southern end and turn right on Hanson Rd. Follow Hanson 1/2 mile and complex on the left.
Description: Twenty 230 w modules on roof mounts with 5Kw grid-tie inverter.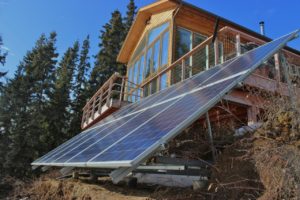 Weissman          
3293 Rosie Creek Rd.    3.1 Kw electric                  ABS
Directions: From the southern point of Chena Pump Road take a left on Rosie Creek. House half a mile on left
Description: Twelve 260 w. SolarWorld panels with twelve micro-phase inverters.
Commerical
---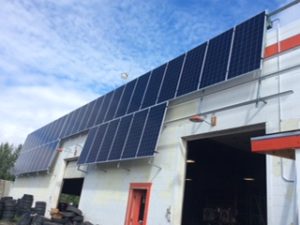 Giant Tire        
751 Williams Gate Rd.        13.2 Kw electric      Desert Solar
Directions: From Cushman 1 mile down Old Richardson, right on Lakeview, right on Williams Gate
Description: Forty-six 320 watt Candian Solar PV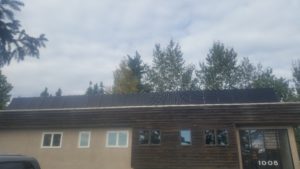 Gazewood & Weiner      
1008 16th Ave.                   24Kw electric          RES
Directions: From Airport go south on Gilliam Way. Right on 16th Ave. Parking lot immediately to the left.
Description: roof-top solar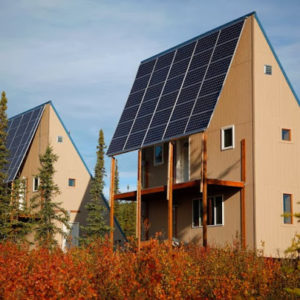 Nature Cabin                        
531 Midnight Sun St.          10 Kw electric            Self
Directions: From the University side of Farmers Loop Rd. One mile east past Auburn. One block past Natures Trail on the right sign side.  Midnight Sun street. Follow to the end.
Description: Two rental cabins side by side each with a 5 Kw roof-top system with Sunnyboy Inverters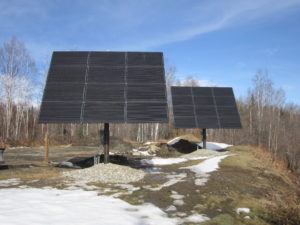 Nortech  
2400 College Rd.       
6Kw electric & hot water   RES/Alascorp
Directions: Eastbound on college road, right-hand side past fairgrounds.
Description: Array mounted poles equipped with dual trackers (increased annual production 30%)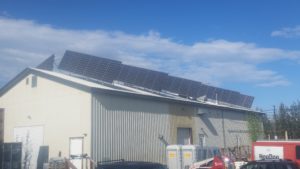 Hoodoo Brewery    
1951 Fox Ave. 16.2 Kw electric  RES
Directions: Proceeding from Peger on Phillips Field Rd 1/2 mile Olnes St. on left. End of the road on the left.
Description: Sixty 270w modules mounted on the roof
---
History of the Fairbanks Solar Tour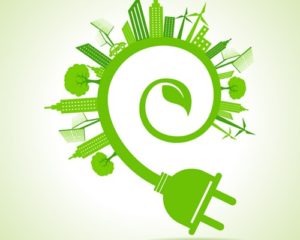 In 2009, members of the Fairbanks community organized the solar tour for the first time to highlight the benefits of solar energy to local residents.  Since 2012, ARK has collaborated with local people and businesses to keep the light on the emerging solar industry here and around Alaska. In association with the American Solar Energy Society and the state-wide Alaska Solar Tour  (click here for links to other communities).  This coordination represents the waves of growth in the clean energy industry sweeping the world as we move toward fossil freedom.
Encompassing all forms of clean energy technology, supported by innovative conservation techniques, the national tour provides folks the opportunity to see first how these types of strategies work.  In Alaska, energy for heating our homes, keeping the lights on, and getting around is a key element of the economy. This tour showcases that the wind, solar, biomass, geothermal, and micro-hydro have a great potential for long-term independence, stability, and cost-effective solutions to our pressing energy needs.
In 2016 ARK, partnered with the newly formed Fairbanks Climate Action Coalition (FCAC) and they helped draw the largest crowd ever and enhance the experience with a kick-off party at Cold Climate Housing Research Center (CCHRC).
---
Here are the highlights from previous years: (coming soon)
2012
2013
2014
2015
2016